SMG's Benefit for Fallen Heroes
July 14, 2014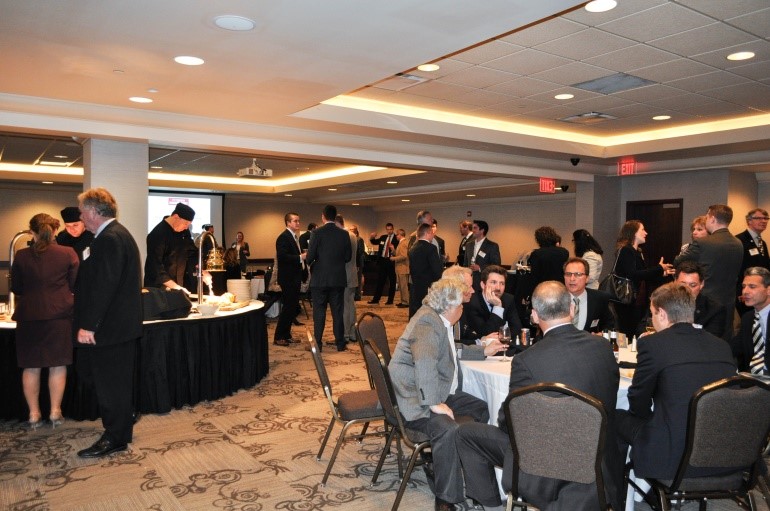 Who's Who 2014
October 18, 2014
Beemac Trucking, headquartered in Ambridge, PA, was recently recognized as Outstanding Carrier of 2013 by TMK IPSCO, a large North American producer of welded and seamless pipe. Beemac and TMK IPSCO are collectively working together as a team on the premise of serving the shale oil and gas industry. Rick Harker, Manager of Domestic Logistics, TMK IPSCO, presented the award to Beemac in recognition of high levels of customer satisfaction in 2013.
Beemac Trucking is a long-haul, steel hauling, flatbed carrier and logistics company that provides services to customers throughout North America. The Ambridge-based company has an intermodal river-port facility located in Leetsdale, PA, where they load and unload barges, railcars and trucks. Beemac also provides indoor and outdoor warehousing services.
Beemac services a large portion of the Marcellus Shale, dealing with a large quantity of shale oil and gas steel pipe. From an environmental standpoint, the company is pushing to go green in the support of compressed natural gas (CNG) vehicles. The company purchased 20 new CNG trucks with 12-liter engines from Volvo in 2013.
009 (3)Not only is Beemac purchasing new CNG trucks, but the company is also converting some of its current fleet to CNG. Later this year, Beemac will complete construction of their first CNG refueling station in Beaver County. The company has already broken ground and construction is currently underway. Beemac is at the forefront of professional trucking, as most of their competitors aren't utilizing the cheaper, cleaner and more convenient technology of CNG.
With the company moving forward in regards to compressed natural gas, Beemac highly values their relationship with companies in the shale oil and gas industry. Dave Dudo, Senior VP of Operations, Beemac Trucking, expressed, "As a company, Beemac is very proud to receive the Outstanding Carrier Award of 2013. We value the relationships with our customers, working together as a team. I'd say it's more like a partnership."
010 (3)Dudo touched upon the fact that Beemac employs 300 staff members all ranging from office employees to barge workers and to onsite mechanics. Beemac works effectively with their customers, improving each other's operations and streamlining efficiency.
Adding to the conversation, Rick Macklin, CEO, Beemac Trucking, said, "It is a great honor to be recognized by our customer. This award was made possible because of the efforts of our entire team at Beemac." As Beemac maintains steady relationships in the shale oil and gas industry, the company is hard at work at Ambridge. Beemac voiced that they are honored to receive the prestigious award of Outstanding Carrier of 2013.
Shale Media Group (SMG) is a news, information, education and mapping resource dedicated to the shale oil and gas industries by messaging across video, Internet, publications, events and radio. For more, check out ShaleMediaGroup.com to access all platforms, including: TheMarcellusShale.com, TheUticaShale.com, TheShaleAcademy.com, ShaleAdvantage.com and ShaleEnergyNow.com. Adam Larson is a Staff Writer with Shale Media Group. Contact him at ALarson@ShaleMediaGroup.com.